You must be thinking that a blogger or a content writer's only source of income would be Publisher's ads (Google Adsense) or Affiliate marketing.  But, most of the bloggers are now earning through Guest posts.  In fact in the recent survey, more than 50% earning is through Guest posting for old time bloggers.  Earning through guest posting is quick and easy, and most of the professional bloggers can start earning from Guest posts from day one.
If you think your earning is very low through Google Adsense or Affiliate marketing, then switch to Paid Guest posting.  Most of the new generation bloggers are minting huge money through paid guest posting or paid guest blogging.
Now, what is Guest post and how one can earn daily from guest post?  There are many bloggers who are 100% dependent on Guest Post and for such bloggers or content writers, this is the only source of income.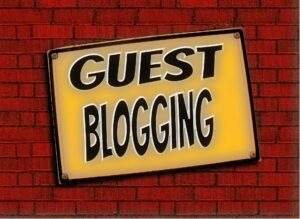 Guest post has two aspects, 1. A person writing a blog or article on your website, in this case, you can charge that person depending on the niche and quality of the article which they are planning to upload on your website.  One can charge $10 or $100 per blog, again depending on the article.  On an average a professional blogger whose website is more than 5 years old can earn $150 per day, there are few bloggers who are earning thousands of dollars per hour through Paid Guest Blogging.  
2. In this, you become the person who will pay to the blogger as he will be placing your article on his website. But why you want your article to be placed on that blogger's website, this is to increase the DA and PA of your website. DA is Domain Authority and PA is Page Authority.  Domain Authority predicts how likely a website is to rank in search engine.  Page Authority, is the value a search engine assigns a web page.
In this blog we will discuss the first aspect, here you can earn daily from Guest Post.  Apart from the daily earnings, there are other benefits of Guest posting.  Guest Posting can generate huge traffic, Guest posting can improve your website's DA and PA, it also improves the overall SEO Score, and your ranking on Google.
How to Start Paid Guest Posting?
To start paid guest posting, there are some few prerequisites, your site should be at least a couple of years old, should have good quality content, content should be legit and unique, DA should be between 40-50 and PA should be between 50-60 and the most important part is your website ranking should be good, along with a good SEO.
If you qualify for all these factors, you can invite customers to write articles, blogs and backlinks on to your website. Also, you can charge a good amount if you meet all these requirements, maybe more than $100 per blog or $10 for a single backlink.
How to Get Customers for Paid Guest blogging
If your website's ranking is good, you will automatically get customers through organic search.  If the organic traffic is not good, you can approach various website which can help you to find Paid Guest posting.  
Some of the websites are Fiverr, Guru, PeoplePerhour, Upwork, Freelancer, etc.  Post your request that you are inviting bloggers, content writer, digital marketer, and small companies who want to advertise their products and services, mention that they can write article or create backlinks on your website.  Do mention that you are charging very less and the article on the website will be available for lifelong, also there are no recurring charges.
Let us see how you will post such request on Fiverr
First step is to sign up with Fiverr, switch your profile to Selling.  Now you need to create a gig, a gig is a service which you are offering or one can say a Gig is an opportunity to showcase your talent to your customers.  In your case, paid guest posting will be the gig. 
Click on the Gig menu and go to Create a new Gig.  You need to write the Gig Title, description and add an attractive and interactive image that can attract customers.  Mention the price also, for example if you are charging $10 for per post, mention $10 in the scope and pricing menu.  The same strategy applies to other platforms as well.
Below is one such gig which I have created on Fiverr to attract customers for paid guest blogging.
The second method is using Facebook Group, join facebook group related to Paid Guest blogging.  Post an article on these groups that you are charging very less for guest posting, you will find a lot of customers through this method.  This applies for Google Ads, Instagram Ads and Twitter Ads.
Now, let us see what are the advantages and disadvantages of Paid Gust posting.
It's not only the advantages; there are few disadvantages as well of Paid Guest posting.
Just a suggestion, do not do guest post frequently.  Do guest post only if you feel the content is worthy and rich in content.   Also, the guest post should have at least 2000 words as such articles have a better chance of ranking.
Below are some of the Paid guest posting websites which one can try.