Covid-19 Pandemic is still not over, there are still fears of 4th and 5th wave of Covid19 which may start in the mid of year of 2022.  We have already seen that in 2020 and 2021, almost 90% of people started and continued to work from home.  This means every work is possible from home, it is not mandatory for an employee to come to office and deliver his work.
Work from home model will continue in coming years, this is what the market experts think!  In fact, most of the multi-national companies have adopted and accepted the Hybrid model of working from home and working from office.
As per the latest estimates, by year 2025 there will be 70% of the total employee workforce working from home or one can say they will be working remotely.  This means that there are very high chances that the remote work will be permanent in the near future.  Business Analyst and market leaders have confirmed that there was no impact on the productivity in last two years when employees were working remotely.
Also, working remotely has many advantages for both employee as well as employer; let us see some of the advantages of working remotely.
Benefits of Working Remotely
More than 75% of employees are not satisfied in their company since there work life is not balanced, this means the professional work is becoming a hurdle in their personal life, they are unable to spare time with their loved ones and family members.  They are working more than 9-10 hours a day, some of the time is wasted in commuting.  This means they are giving very less time to their family which is a concern for their personal relationship.
Working remotely (particularly from home) can give them enough time to spend with their loved ones.  Employee will be more happy and comfortable with their family members around them while he is on remote work.
Many employees are saving more than 3-4 hours of productivity!  Not everyone is lucky to have a office which is near to their home, most of the official buildings, corporate park, IT Park and other multinational companies are far from residential complex.  On an average an employee will spend at least 2-3 hours in commute.  Once he reaches office, he will go for short tea-breaks, lunch break and evening breaks, if you total these breaks it will be around 1-2 hours.
As an employer, more than 5-6 hours of productivity is lost.  This loss of productivity can be avoided if the employee has been given an option to work from home remotely.  In fact, this will also help the employee as he will not waste time in commuting, rather than commuting he can add more efforts and hours in his productivity.
If employees have started working from home remotely, the employer can save his rent which he is paying for the official premise, apart from rent he can save on electricity, utilities and other office supplies. 
4. Flexible work hours and work locations
The most important part of remote jobs is flexibility.  In the remote job, Employee can work from anywhere; they can work from their home, café, hotels, any part of their country or outside country.  Employees also become flexible in their working hours, it is not necessarily that they have to work only from 9am – 5pm job, they can work any time.  This also benefits the employee in terms of productivity.
5. Decrease in absenteeism
Normally employee fall sick because of the daily hectic traveling to office and this results in absenteeism, since now employee do not have to travel to office there are very less chances for employee's absence.  Employee will also have to travel for meeting and onsite client locations, as now the employee is remotely working he can make use of remote meeting applications like Webex, Zoom, or Microsoft Teams.
What all we have discussed above are the remote jobs for your prime job which is the main source of income, but do you know that there are remote jobs which exists and which can be done after office hours or on weekends.
These are the remote part-time jobs which can pay you more, anywhere around $1k-$5k monthly.   It is not like that you will not earn more than $5k monthly, if you are serious and consistent this remote part-time job can replace your daily 9am – 5pm job.
Let us checkout some of the remote websites which offers part-time jobs.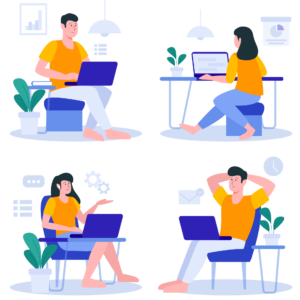 Flexjobs started in year 2007, the aim was to provide a trusted, more effective, friendly, and overall better way to find professional remote and flexible jobs.  Flexjobs is fantastic for people interested in working from home or remotely.  Anyone looking for a part-time or full-time can reach out to Flexjobs.
If someone is looking for a remote job which he can carry out only on weekends, can also approach Flexjobs.  Join Flexjobs here also do check out some of the success stories of employee who are working through Flexjobs.
We work Remotely is the largest remote work community in the world.  With over 3 Million visitors, WWR is the number one destination to find and list remote jobs across the globe.
WWR is trusted by the world's leading companies like Google, Amazon, Basecamp and invision.
WWR can source and place quality remote candidates quickly from their large remote pool of jobs.  Posting and getting a remote job through WWR is very easy and simple.  They have multiple categories of jobs like programming jobs, design jobs, customer support jobs, sales and marketing jobs, marketing and finance jobs, etc.
Rev is an American speech-to-text company that provides closed captioning, subtitles and transcription services.  The company was founded in year 2010, it has more than 50k independent contract workers who transcribe audio for a low per-minute rate.  Amazon and Microsoft are some of the key clients of Rev, who hire transcribers who can work remotely for them.  It is stated as the number company in speech-to-text service in the world, with more than 72k amazing freelancers
One can lookout and apply for multiple jobs in Rev, some of the remote jobs which they offer are Transcribe MP3 to text, Transcribe Video to text, Transcribe Audio to Text, Live Captions for Zoom, Global Subtitles, etc.
Upwork is an American freelancing platform providing remote jobs and is based out in California, it was formerly called as Elance-oDesk.  In March 2022, it was listed in the list of 100 most influential companies of the year 2022.
Upwork allows clients to interview, hire and work with freelancer and freelancing agencies through the company's platform.  The client posts a description of their job and a price range they are willing to pay for a freelance to complete in.  Freelancer have an option to complete the task remotely provided he has internet connection at his place. 
In March 2022, Upwork released a report claiming that up to 25% of professionals expect to permanently work remotely.  The remote freelancer's in Upwork are increasing on a daily basis.
Remote Jobs have changed completely, post Covid-19 pandemic more and more companies are offering remote jobs either full-time or part-time and people are actually generating a very good income. And, the most important aspect is that you are working while having a fun time with your family and loved ones.
Do check out my blogs and website if you want to learn and earn Online Money and Passive Income.
What is the most flexible remote job?
Affiliate Marketing jobs are the best flexible remote jobs.  Affiliate Marketing can be of physical products, digital products or services.
What are the most in demand remote jobs?
Virtual Assistant.
Online Trainer.
Recruiting coordinator.
Affiliate marketer.
Blogger.
Freelancer. 
What is the highest paying remote jobs?
Data Scientist.
IT Project Manager.
Software Engineer.
Cyber Security Analyst.
Business Analyst.
Digital Marketer.
System Administrator.
Technical Writer.
Freelancer.
Blogger.
Affiliate Marketer.